News
Types of Shirts Every Man Should Own
by Krishnendu Spiderworks on Apr 26, 2021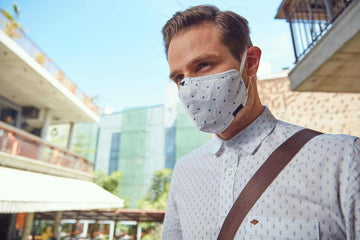 Every man must have a collection of shirts, for him to dress to the occasion. An inappropriate design may not put you in the right light. Imagine attending an official meeting wearing a Cuban collar shirt. It may not be the advisable choice for the occasion. You may debate that the choice of dress is one's decision. Of course, it is. Nonetheless, dressing elegantly is what distinguishes influential men from others.   
Here, at ADNOX, we have a wide collection of shirt designs. You can opt for the best one that suits a particular occasion. Wear it confidently and present yourself in the best light. The charming and appealing dress selection will make you a winner. Procure and keep a collection of a variety of shirts in your wardrobe. So that you can wear it for any particular event, even at a short notice invitation. Check out the list we enumerate below, to confirm whether you have the shirts that every man should own, in your collection.
Plain Full Sleeve Cotton Slim Fit Shirt
A must in your collection, the plain full sleeve shirt can be your perfect dress for both official events, as well as casual outings.
Printed Full Sleeve Casual Slim Fit Shirt
Planning an outing in the summer or thinking of a party with friends. This shirt design will suit either of the occasions. Check out the colours and sizes and order the one for you.
Plain Casual Fine Twill Cotton Shirt 
Cotton shirts are the most preferable choice, especially in a tropical country like India. This dual-tone shirt would simply elevate your looks.
Men's Designer Full Sleeve Shirt
Arrive in style for parties and functions, wearing a designer full sleeve shirt. You must have at least a couple of such shirts in your collection.
Checkered Twill Cotton Shirts 
Checks have been a constant choice of men around the world for decades. Checkered shirts still hold a prominent position. You will love the distinctively styled checkered shirts from ADNOX. Buy it and dress up in style for different occasions.
Also Read - Latest Trends in Men's T-Shirt Design
Designer Twill Lycra Cotton Full Sleeve Shirts 
Appear different from others. Enjoy the attention the Designer Twill Lycra shirt can get you. Collect as many pieces as you can and make your wardrobe ready to complete.
Cotton Linen Casual Printed Shirt
Printed shirts silently proclaim how cool you are. We advise you to avoid an overdose of floral or similar prints. A perfect blend of casual attitude with the smartness of a gentleman is what the cotton-linen combo offers.
Printed Oxford Casual Full Sleeve Shirts
Printed Oxford casual full sleeve shirts are a breed of their own. Browse through the colours and choose the one that matches you perfectly.
Fancy printed Dobby Cotton Shirt 
Let your style statement exceed others expectations. The fancy printed dobby cotton shirt would be a great choice to reflect your cool and casual attitude with elegance.
Vertical Striped Fine Twill half-sleeve Shirt
Half sleeve shirt is an unavoidable one in your wardrobe. Select the colour and order the best vertical striped fine twill half-sleeve shirt from our collection.
Floral Printed Casual Full Sleeve Shirts 
Floral prints are trending for a long time. Choose the shades according to your skin tone to comprehend your looks. Have a number of floral printed shirts to use during trips or weekend get together or any other exciting occasions.  
Floral Printed 60's Cotton Full Sleeve Shirt
Vintage designs render outstanding elegance to the appearance. Floral prints from the 60s have been a preferred choice for both young and adult alike. With our couturiers designing it with élan, you can expect the right colour combination, brilliant design patterns and appealing looks. Glance through our collection and buy a bunch of the same to include in your wardrobe.
Solid Casual Cotton Dobby Shirt
This is another brilliant design that will register your presence among the crowd. The colour combinations have been chosen by our fashion designers to make each men's shirt look appear distinctively brilliant.
The Conclusion
Different types of shirts, that can be worn depending on the occasion, is a compulsory thing whether you are a job seeker, entrepreneur or employee. The dress you wear will be reflecting your confidence, attitude and style sense. Therefore, it is a must to dress for the occasion. Choose shirts of different styles for wearing them during official conferences, casual trips with friends, outings with family and so on.