News
Top Stylish Ways to Wear a Polo T-shirt for Men
by Krishnendu Spiderworks on Apr 19, 2021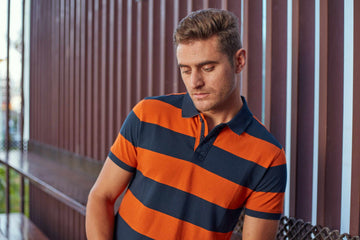 A Polo t-shirt would be the most common item in a male wardrobe. Initially, polo was associated with golfers and tennis players. Slowly it became the first choice for salesmen, food delivery boys, and casual uniform of intermediate students. In effect, many found it inapt for using official outings or formal gatherings. As with any concept, it has changed with time. Nowadays, people choose to wear polo t-shirts on various occasions, by selecting the right combinations and designs.
 Dos and Don'ts While Wearing a Polo T-shirt
 Before we move on to explore the stylish ways to wear a polo t-shirt, let's have a look at the dos and don'ts whilst wearing it.
 Dos
 The following may be considered when you wear a polo.
 - You can tuck in or keep it untucked depending on the occasion. At the same time, don't feel forced to tuck it in when you are attending a party or official get together. It solely is your discretion.
- Put at least one button. Both closing all the buttons and leaving all those open must be avoided.
- Choose the colour that contrasts your trousers
 Don'ts
Please remember the subsequent points while you choose to wear a polo t-shirt.
 - It is better to avoid polo t-shirts with pockets, unless necessary. The pocket is not of any use. Moreover, the sagging pockets will not look good. 
- Wearing a vest is not advisable
- Keeping the collar raised will not give a good appeal
- Polo t-shirt with extremely large logos may not appear elegant
 The Stylish Ways to Wear a Polo T-shirt
Dressed to the occasion, most suitably, you will turn the centre of attraction of every event. Picking the perfect outfit that compliments your look and body structure is the preliminary thing to consider. Colour combination of polo t-shirt and the trouser is another important factor.
Combination of Casual Polo T-shirt with Chinos
Present yourself as an uber-cool person, with the cool combo of polo with chinos. It will add to your appearance and state yourself as a classy person.
Although not advisable for winter, this dress combination is suitable for most of the seasons, as well as, occasions.
Polo T-shirt with Smart Shorts
This dress combination is the smartest one during summer.
You can wear a polo t-shirt with denim or chino, shorts for an outing with family and friends, casual trips, or an unofficial gathering with colleagues. 
Read more - Top summer outfits combination for men
 Blazer over Polo T-shirt
Wear a suiting blazer over your polo t-shirt. Dress up in style for the night parties, official outings, and even for meetings. Choosing a matching blazer/ t-shirt combo is the crux of this stylish pattern. It would be best if you can keep away from too bright colours for the t-shirt. 
 Polo T-shirt and Jeans
This might be the most common dressing style you have ever seen. Denim with polo is a universal combination.
You can consider wearing it, without any apprehensions, whichever part of the world you belong to.
Dark Coloured Polo T-shirt with Light Coloured Trousers
Think of a black polo with beige trousers. The contrasting colours will make an excellent match. Either tuck it in or keep it untucked, doesn't matter at all. The look will be stunning. Are you in doubt? Just try to see it for yourself.
Cotton Polo T-shirts
Check out the cult classic cotton polo. This traditionally followed style is apt for casual occasions.  
Polo T-shirt and Coat
Are you thinking of wearing a polo during the summer? Wear it with a coat that complements the shade and design of the polo or choose a polo that matches your coat. This simple style will elevate your looks and make a style statement silently.
Consider Long-sleeve Polo 
Long-sleeve polo is an uncommon dress option normally. However, it is the right one if you consider dressing up in polo during winter. The appearance will be entirely different from a shirt. But, it has its peculiarity and special feel. You can wear it with a cardigan, or jacket. A combination of trousers or chinos along with long-sleeve polo will look nice.
The Tail End
By selecting the right dress combination and wearing it confidently, you can make a style statement among the crowd. Wear a polo t-shirt stylishly, in combination with the right trousers, denim, shorts or chinos, and make a smart appearance. We have a wide collection of exclusively styled polo t-shirts for men. Browse through the brilliantly crafted designs from our expert couturiers. It will amplify your looks and help you stand out.
Polo t-shirts will continue to be a cult style statement for years to come. People are trying and finding new style patterns and exceptional ways to make it more attractive. Pick one from our exhaustive collection of polo t-shirts, to present yourself in style.