News
Latest Trends in Men's Shirt Design 2021
by Krishnendu on Mar 23, 2021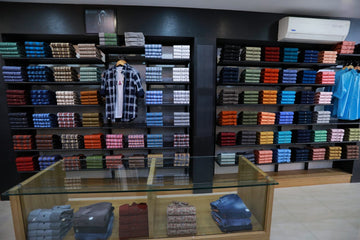 Styles and fashion trends change frequently. Fashion houses and dressmakers are searching for novel concepts and design features that can turn eyes and become an instant hit with fashion enthusiasts.
Rather than running behind short-lived trends, one should look out for classy designs that will stay for more time. The beginning of 2021 has seen not only the return of some old, yet elegant, styles but also the introduction of unique ideas.
Let's see the latest trends in men's shirt design 2021
1. Unwavering Stripes
Vertical stripes may not be a new trend. It has been one of the most popular styles for ages. Vertical stripes are expected to rule the roost in 2021 as well. However, we advise you to opt for vertical stripes after considering your body structure only.
The stripes will make you appear thinner and taller. Therefore, more advisable to short men of a well-built structure. Slim men will look slimmer than they actually are and will affect the overall appearance
2. Floral Designs
This is not at all a new fashion or style. One of the most popular designs in the 1970s, floral patterns have been the highlight among casual wear. The floral design will silently proclaim how cool you are. It will continue to be a trend in 2021 also. Check out different shades and patterns of floral designs and choose the right one that fits you well.
It would be the perfect dressing style for a casual outing, parties or functions in summer. Check out the collection from ADNOX and choose the best one that will make you appear more handsome than ever.
3. Printed Checks
Full sleeve printed shirts have the uniqueness of suiting every occasion. An individual can use it for a casual outing or for family functions or at gatherings.
Choose a stylish print that suits your appearance. Although this is not the latest, the trend will have a prominent place in the year 2021.
4. Designer Shirts
Of late, designer shirts that don't have a clichéd appearance have many takers. Obviously, designer shirts with plain patterns and distinctive styling elements will be one of the top trending designs in men's shirts in 2021.
Reputed designers and fashion stores have already brought out a set of designer shirts that can attract youth and aged alike.
Selecting an outstanding designer shirt that matches you perfectly will help you in making a style statement silently.
5. Half-sleeve Slim Fit
Are you going for an outing with friends? Thinking of a casual get together at the beach? Or a fun evening with the family?
Nothing can replace a half-sleeve slim-fit t-shirt for such an occasion. T-shirts and polos have remained the first choice for casual fun and play activities.
However, the arrival of comfy fit shirts that will make the person appear slimmer has a positive result in the market. Fashionistas are opting for slim-fit half-sleeve shirts instead of t-shirts presumed to trend in men's shirt design in 2021.
6. Cozy Styling
Speak out how cool you are through a cosily styled dress. Forget the complexities of work, office, and business meetings.
Be the one to set the trend and wait for the world to follow. Cosy shirts that simply state your confident and unwavering attitude will be one of the most followed trends in 2021.
7. Collar Designs
Camp collar is the latest trend. Forget the normal clichéd collars as in the past. Wear a camp collar shirt at the party.
Choose to wear it in tucked out style. Thereby, revealing the uber-cool individuality in you. Undoubtedly, camp collar shirts will be trending in 2021.
8. Light-weight Jackets
Although a tropical country, India has seen a rise in the use of jackets. The fashion designers have remodeled the jacket and used lightweight materials to ensure ventilation.
The trend of layered dressing that started in 2020 will continue to remain popular in 2021.
Fashion lovers only have to make the correct choice of layers and the right dressing pattern according to the occasion. You are going to remain in the limelight wherever you go.
9. Bohemian Style Denim
Celebrate freedom and state your love towards nature with bohemian style shirts made in denim.
This stylish denim is going to be a trendsetter in 2021. Popular online and offline stores have beautifully designed denim for you to select from.
10. White Touch
Choosing an all-white appearance may not be appealing to all. However, subtle shades and styling that amplify the appeal will be a trend in 2021.
Apt for official meetings, and functions, go for all whites if you find it matches your style quotient.
A closer look at the men's shirt design trends over the decades will reveal to you that it doesn't have many variations since the beginning.
Unlike women's fashion, men's design experiments have been limited.
As is the case, men's shirt designs in 2021 will not have any out-of-the-world changes this year.
The fashion designers will be looking at minor touches here and there to make those appear novel.
ADNOX has been observing the latest trends in men's wear and incorporating them into our collections.
Our panel of fashion designers has a thorough understanding of the industry. And aim at delivering international shirt trends in India, at the same time, it is introduced in the global fashion arena.
We also make sure to use only high quality material for the products we create.